It's FRIDAY! YAY!
It's not raining! YAY!!!
Time for BOOK CLUB! YAY!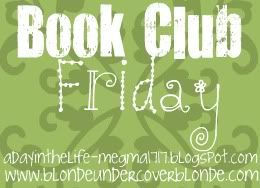 So first, off, I was planning on reviewing Sweet Valley Confidential, as I started it last week, but I had to put it down. It's not often that I stop reading something I've started (like, I can't even REMEMBER the last time I quit a book) but after about fifty pages, I just couldn't TAKE IT ANYMORE.
What was the problem, you ask?
The font choice! When one of your MAIN CHARACTERS name begins with a "J" then WHY would you choose a font that makes a "J" look like a misplaced "L"? It was SO distracting that I couldn't continue. I didn't know I was a high-maintenance reader until this book.
So onto the ACTUAL review for this week...
Bossypants by Tina Fey
From the Inside Flap: Before Liz Lemon, before "Weekend Update," before "Sarah Palin," Tina Fey was just a young girl with a dream: a recurring stress dream that she was being chased through a local airport by her middle-school gym teacher. She also had a dream that one day she would be a comedian on TV.
She has seen both these dreams come true.
At last, Tina Fey's story can be told. From her youthful days as a vicious nerd to her tour of duty on Saturday Night Live; from her passionately halfhearted pursuit of physical beauty to her life as a mother eating things off of the floor; from her one-sided college romance to her nearly fatal honeymoon - from the beginning of this paragraph to this final sentence.
Tina Fey reveals all, and proves what we've all suspected: you're no one until someone calls you bossy.
(Includes Special, Never-Before-Solicited Opinions on Breast-Feeding, Princesses, Photoshop, the Electoral Process, and Italian Rum Cake!)
My Take: This book almost killed me. For reals. I wasn't feeling awesome and laughed so hard at one part that I actually started choking. Despite the attempted murder, I couldn't put it down until it was done.
Then I was sad because it was over.
Not only is Ms. Fey a hilarious comedian, she's also a very talented writer. I flew through the pages not only to read about her life, but also for how she'd describe the events. She's the undisputed Queen of chapter-ending sentences.
Bossypants could totally be a beach read, but maybe not a public-transit kinda book as I guarantee there'll be at least one part that has you laughing out loud. There are stories from her childhood, her days of doing improv, SNL and 30 Rock. A few photos too, and instead of being all together in the middle, they're inserted into the text (my personal preference, so yay). I definitely wouldn't call this a memoir, so if you're looking for "deep confessions" from a celebrity...well...there aren't any.
I'll share ONE spoiler; the one that nearly ended my life.
"Always on the cutting edge of beauty, I believe this haircut was executed by folding my face in half and cutting out a heart." - Page 108, below a picture of the described cut.
Not enough reasons to pick up a copy? Then read some of the Praise, found on the back of the book
"You'd be really pretty if you lost weight" - COLLEGE BOYFRIEND, 1990
"I hope that's not really the cover. That's really going to hurt sales" - DON FEY, FATHER OF TINA FEY
"Hilarious and insightful. Laugh-out-loud funny--oh no, a full moon. No! Arrgh! Get away from me! Save yourself!" - A GUY TURNING INTO A WEREWOLF