Wohoo! Time for Book Club Friday!
This week, I read this *points below*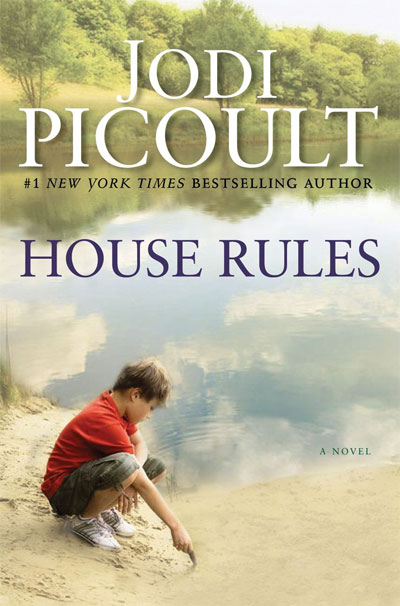 From the Back:
Jacob Hunt is a teen with Asperger's syndrome. He's hopeless at reading social cues or expressing himself well to others, though he is brilliant in many ways. But he has a special focus on one subject--forensic analysis. A police scanner in his room clues him in to crimes scenes, and he's always showing up and telling the cops what to do. And he's usually right.
But when Jacob's small hometown is rocked by a terrible murder, law enforcement comes to him. Jacob's behaviours are hallmark Asperger's, but they look a lot like guilt to the local police. Suddenly the Hunt family, who only want to fit in, are directly in the spotlight. For Jacob's mother, Emma, it's a brutal reminder of the intolerance and misunderstanding that always threaten her family. For his brother, Theo, it's another indication why nothing is normal because of Jacob.
And over this small family, the soul-searing question looms: Did Jacob commit murder?
My Take:
Jodi Picoult is a workhorse author. By that, I mean that she must spend MONTHS or perhaps YEARS researching before writing because she seriously knows her business. Although there are five points of view (Jacob, his mother Emma, his brother Theo, police officer Rich and lawyer Oliver) the plot isn't spread too thinly between them and I was able to get emotionally invested with each character. The combination of five POVs, legal jargon, police procedure and aspects of Asperger's syndrome could've meant a confusing story, but instead, it's seriously engaging. Like, 'Holy cow it's 2:00 am?!' kind of engaging.
It's a slow start in the beginning, but if you push through, things get BANANAS! I was convinced, on several occasions, that I'd figured out what was going to happen next and I was only right ONCE! Sometimes I was SO wrong that I'd put the book down and look around to see if anyone else was as surprised as I was. Marc was happy when I finished as he didn't really appreciate my outbursts of, "can you BELIEVE that?" and "shut up!" in the wee hours of the morning. I also cried during one part, which is EXTREMELY unusual (sneaky, sneaky, Ms. Picoult).
House Rules is like a murder-mystery-women's-fiction hybrid with just a dash of YA (two perspectives are under 18). Frankly, I haven't read anything quite like it and I'm definitely going to read more books by Picoult. She's pretty much one of the best new (to me) authors I've read.
Happy page turning!