Yesterday, I was perusing the blogosphere, checking out my faves when I noticed something AMAZING!
*squeezes airhorn*
That's ME! I'm versatile!
So, the award means I need to share 7 new things about myself. After spending ALL DAY yesterday thinking, this is what I've come up with:
1. I've started collecting Nutcrackers. Not just ANY Nutcrackers, though. They need to be special and socially diverse. The Little Person Fireman is this year's addition.
2. I feel a kinship with Zooey Deschanel's character on New Girl because I TOO like to sing things instead of just saying them. You know, like: "It's time for supper," or "Would you like to go for a walk, little puppy-pants?" (ps. I feel like I'm in a Harry Potter book with this picture. HOW is it doing that?)
3. I spend all day by myself and sometimes like to channel my inner stripper. I picked up a few wigs during Halloween sales, which have obviously taken my Fireman spins to the next level. I would also like to say that the disco ball makes me better, but I'm still not that great. How do ladies make it seem so easy? And yes, sometimes I just wear the wigs while doing mundane things around the house - like washing the dishes. The postal delivery man might think I'm imbalanced but long blue hair is awesome.
4. I LOVE SPARKLES! Okay, so that's not new info but OPI's new Muppets collection IS! When it was released, I scoured the city for a bottle of Rainbow Connection - the best of them all. Don't worry, someday you'll find it...bahaha!
5. I recently discovered that my shampoo is made by Captain Planet as: the elements of earth, wind, fire and water represent a unique combination of certified organic botanicals and incredible style.
6. I have the best Mum ever. Yeah, yeah, everyone's Mum is the best but mine SERIOUSLY is! Even though she lives in Scotland (Oban, to be specific) for half the year and we don't see each other much, she's super supportive. The last few years would've been even more brutal without her. Props to her. *hands GIANT bag of props*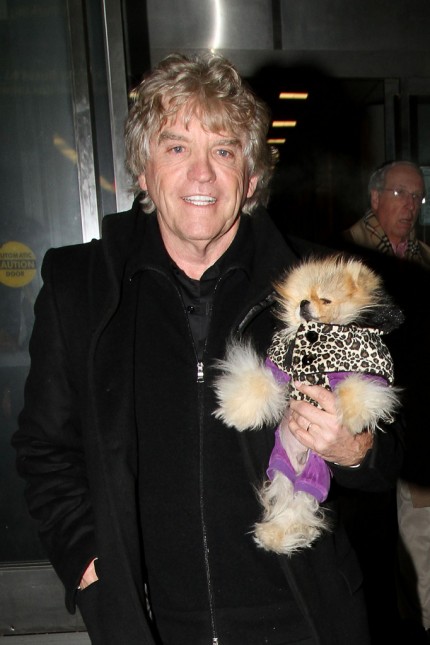 7. Sometimes I wish I was Jiggy from The Real Housewives of Beverly Hills.
So, now I get to pass on the award to others! Who shall it be...WHO SHALL IT BE?
Heather at
Blonde...Undercover Blonde
writes about all sorts of stuff. She's also the go-to gal for giveaways - she knows about 'em all! I also love her Book Club Fridays, which I link up with when I have a review to share.
Julie at
Velvet & Shag
always has ah-mazing interior design ideas AND she has an etsy store where she sells Mad-Men inspired home furnishings. Her weekend warm-ups are awesome too.
And finally, Diana (my mother) at
What Is It All About
. She does lots of cool stuff and has started a blog to write it all down.
Thanks again for the award, Julie! And if you haven't checked out her blog...
GO THERE IMMEDIATELY
! She has the best cartoon drawings EVER! Plus, you might learn a thing or two about triathlons.