You know what's REALLY COOL about this post? The fact that I actually have something to post!
Anywhoo, The lovely
Heather from Living at 1 2 3
is pretty much the best book swap partner, ever. Don't be jealous, I'm sure that your partner was cool as well but mine is the COOLEST (fact).
Aside from being adorable on her blog, she sent me TWO books! YAY! After some slight logistical complications because being from Canada is apparently the same as being from Mars (Amazon...grrr) we were able to actually exchange books.
Heather's first fantastic pick for me.
*cheers*
Wheeeeeee!!! My VERY FIRST Mary Kay Andrews!
Landing a catch like Talmadge Evans III got Eloise "Weezie" Foley a jewel of a town house in Savannahs historic district. Divorcing Tat got her exited to the backyard carriage house, where she has launched a spite-fest with Tal's new fiancée, the elegant Caroline DeSantos.
An antiques picker, Weezie combs Savannah's steamy back alleys and garage sales for treasures when she's not dealing with her loopy relatives or her hunky ex-boyfriend. But an unauthorized sneak preview at a sale lands Weezie smack in the middle of magnolia-scented murder, mayhem . . . and more. Dirty deals simmer all around her—just as her relationship with the hottest chef in town heats up and she finds out how delicious love can be the second time around.
Now I know that lots of Book Club Friday linker-uppers are from Texas and there have been a few reviews for Ms. Andrews books but I've yet to read one! My ereader says that I'm 34% of the way through and I've been loving every minute! I love the accents in my head AND the scenery descriptions AND the characters. It doesn't get better than that. Oh right, it does with phrases like "magnolia-scented murder..."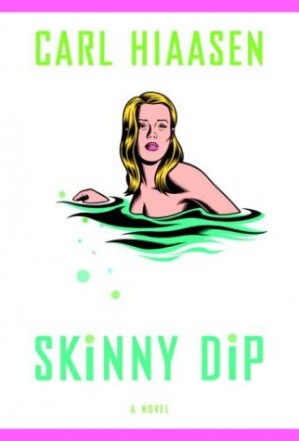 Heather's second fantastic pick.
Marine biologist Chaz Perrone can't tell a sea horse from a sawhorse. And when he throws his beautiful wife, Joey, off a cruise liner, he really should know better. An expert swimmer, Joey makes her way to a floating bale of Jamaican pot-and then to an island inhabited by an ex-cop named Mick Stanahan whose ex-wives include five waitresses and a TV producer. Now Joey wants to get revenge on Chaz and Mick's happy to help her. But in swampy South Florida, separating lies from truths and stupidity from brilliance isn't easy. Especially when you're after a guy like Chaz-who's bad at murder, great at fraud, and just terrible at getting caught...
Yes, Yes, a thousand times YES! There's so much happening in this teaser that I can't quite handle myself! I have a suspicion that this is going to be one I can't put down!