Welcome to The Nail Files!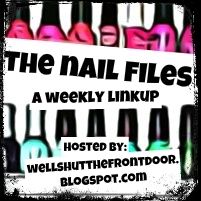 **Link up with us to show off your cute manis (either done by yourself or in a salon), nail polish purchases and/or recommendations, nail polish tips--whatever nail-related thing you'd like! And please either use the new button (that actually has the html code, thanks to Nikki) or link back to this blog. Thanks!**
Earlier this week, I was inspired by Crystal's Strawberry Mani and wanted to do something fruity, so I went through my Pinterest board and found this!
Here's my version!
Thank you, Costco, for stocking Kiwis yesterday because it made my whole life to be able to take a picture of my kiwi mani in front of a massive display of the actual thing.
There was no tutorial, so I figured that I'd make one because I swear that it wasn't nearly as hard as I thought it would be.
Kiwi Fruit:



Kiwi Tips:

See! Only seven steps and you too can have awesome kiwi nails! Ha!
Oh, and here's what I used:
Have an awesome weekend, everyone! And be sure to tell all your friends about The Nail Files because, just like Christopher Walken needs more cowbell, I NEED MORE NAILS! Haha! Can't wait to see what you all have posted this week! :)
And you know what's just as awesome as a fun mani? BOOKS!! So head on over to
Heather
or
Katie's
blog for Book Club Friday and check out what people have been reading! Yay!