Hello Nail Filers!
It's my first week taking over hosting duties for The Nail Files (formerly hosted by
Tara
and
Vicki
) and I'm so happy to have you here!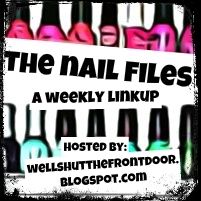 For those who don't know, The Nail Files is a weekly linkup where you can share anything to do with manicures, so link up with us to show off your cute manis (either done by yourself or in a salon), nail polish purchases and/or recommendations, nail polish tips--whatever nail-related thing you'd like!
There's a new button although I can't figure out how to get the little box thingy with the code because I'm fairly useless when it comes to web-design-things. Also, it will be getting slightly redesigned as I'm in the process of a blog overhaul...so...err...sorry that it's kind of a mess right now! Ha! So if you can't just grab it (I have a Mac and that's what I do), then please make a link back to this site because I want to make sure that we don't lose anybody! Thanks!!
So here's what I did this week:


What I used:
Pictoral:
Step 1: Two coats of Harmonious Mess, fully dried.
Step 2: Paint lines starting from the lightest colour to the darkest. So here, it's Harmonious Mess, Don't You Lilac It?, Creative Fantasy, and Bizarre Blurple. Be generous with the polish because the sponge totally sucks it in (which is to be expected, but still kind of annoying).
Step 3: Dab the sponge over your nail, moving slightly up and down to really blend.
Step 4: Add a little gem and a topcoat to eliminate the slight bumpiness and give it all a great shine.
Purple is my favourite colour, so there's nothing I love more than having a bunch of different shades of purple polish on the same nail. Well, except for sparkles, which is why, with the addition of the gold stud, this mani has skyrocketed up my list of all-time-faves! I usually do a gradient with three shades and I must say that now, I'll use four or more because the blending and fade is much better. Also, it was my first time doing all of the shades at once and not only did it work out well, it saved a lot of time, so that'll be the way I do it from now on.
And now it's your turn to link up! I can't wait to see what you've got, so get on it, will ya? And please help me spread the word about people needing to come here to link up! I'll have all the sads if people can't find us (and nobody wants that, right? Ha!). (**UPDATE:
Janie
gets 1,000 gold stars for telling me how to centre the linkup--thanks, girl!!**)
Also,
just like I promised last week
, here are some virtual cupcakes! Devil's Food Chocolate with Creamy White Frosting and sprinkles, to be specific. And yes, I may have eaten one already even though it's very much still the morning. Haha!