Welcome to The Nail Files!
*bangs gong*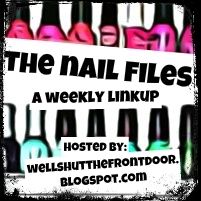 **Link up with us to show off your cute manis (either done by yourself or in a salon), nail polish purchases and/or recommendations, nail polish tips--whatever nail-related thing you'd like! And please either use the new button or link back to this blog. Thanks!**
Lately, I've seen a lot of Pins with two feature fingers that aren't the same so this week, I thought I'd try it out myself.

Spoiler Alert: It turned out awesome! Ha!
What I Used:
To start, I did two coats of Gumdrop on every finger but my pointer.
With a medium dotting tool, I did some random spots with Felicity and then layered I'm Not Lion overtop. When they were dry, I added the black outline with a small dotting tool.
For the pointer finger, I did one coat of Felicity, one coat of Vivien, and then one coat of Paris.
If you're not into the leopard spots, I think that this mani would totally still work if you just repeated the glitter feature as the teal and gold combo just screams sassy summer nights. Ha!
Can't wait to see what you're all rocking!