Welcome to The Nail Files!
*sounds trumpets*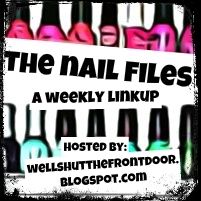 **Link up with us to show off your cute manis (either done by yourself or in a salon), nail polish purchases and/or recommendations, nail polish tips--whatever nail-related thing you'd like! And please either use the new button or link back to this blog. Thanks!**
This weekend marks my hetero-life-partner's Dirty Thirty. For months, her amazing boyfriend has been planning a massive party and I'm so excited that I have to resist the temptation to run around my living room while flailing my arms like a kid all hopped up on pixie sticks. The theme is boho-chic, as my HLP looooooves her some hippie-chic-ness, so in honour of her (and her party) I knew that I'd have to come up with an awesome mani.
When I think of boho chic, two people come to mind: Stevie Nicks and Nicole Richie. Since I have a serious case of potty mouth, I naturally gravitate more towards Ms. Richie and because she's presently getting some flock flack for wearing an accessory with feathers, I was reminded of a technique that I've been meaning to try. So, I combined the new technique with a tried-and-true favourite and it ended up looking bitch'in (see, I told you that I can be potty-esque).
What I Used:
The Tutorial I Followed:
The End Result:
After going through The Nailsaurus's tutorial, I got to work. Starting with my feature fingers, I did one coat of I'm Not Lion and then layered the feathers on top. Now, the Nail-tually talented Nailsaurus stated that you should put 3 coats of Seche Vite BEFORE doing your final trim and let me tell you, that's sound advice. I didn't do it for my right thumb and it's still all jaggedy after FIVE coats of SV. You've been warned, haha!
For the other fingers, I started with two coats of
Creative Fantasy
and then did a gradient to black, using a makeup sponge. For a pictoral I did of how to get a great gradient,
click here
.
I'm torn between wearing one of two dresses to the shin-dig so this mani will work with either, which is good because I won't have much time on Saturday to do them.
And the lovely Janie from
Fortune Favors The Brave
came up with the utterly brilliant idea to create a Pinterest board for The Nail Files. You can follow either
Janie
or
myself
to see them, and that way, if you miss a week or are just looking for some inspiration, you can see all of the pictures there! Like a LIBRARY OF NAIL FILES, which is freaking awesome because it's a combination of my two most favourite things: nails and books. So yeah, like I said, Janie really is a freaking genius.
Can't wait to see what you're all rocking this week!