Welcome to The Nail Files!


*twerks*


Kidding! Hahaha!!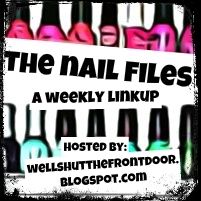 **Link up with us to show off your cute manis and/or pedis (either done by yourself or in a salon), nail polish purchases and/or recommendations, nail polish tips--whatever nail-related thing you'd like! And please either use the new button or link back to this blog. Thanks!**
***
This week, I took a little break from nail art. Yeah, it's super fun but sometimes I just don't have the patience to try, you know? Sometimes, it's nice to just paint them, but that doesn't mean there can't be a little pizazz!
*spins in a circle doing jazz hands*
Here's what I used:
And the mani:
Okay, so technically, my middle finger is a gradient but aside from that, this is a nail-art-free mani. Ha!
Feature Fingers: Two coats of Paper Mache, followed by half coat of Peacock Portrait.
Other Fingers (from pointer to pinky): Two coats of Skinny Dip, gradient with Skinny Dip and Mackenzie, and then two coats of Mackenzie.
Once I was finished, though, I realized that something was missing.
Peacock Portrait
is lovely with its dainty blue, green, and silver sparkles, but the coverage isn't the best so I went to
my trusty rack-o-polish
for one of my fave green glitters:
Mermaid Tale
. And as you can see from the two pictures, I think I can say for certain that two glitters are better than one.
The whole thing took me about 25 minutes (even with the addition of Mermaid Tale) and the best tip I can share about working with polishes that have variously sized chunks is this: don't use the brush that comes with the bottle.
I'm guessing that right now, you're all: Whaaaaaaaaat?
But hear me out.
The brush that comes with chunky glitter is the same that you'd find in any nail polish bottle, and that's a problem because you can't control where the glitter goes. Most times (for me, anyway) the brush will have either too much or too little glitter and it doesn't go on evenly. I have no idea why nobody's figured out a better brush situation (*stares at China Glaze, ORLY, Finger Paints, and OPI*) but it is what it is.
If you happen to have a smaller brush handy, though, it makes placing the glitter chunks a total breeze. Drop a few gobs on a piece of paper and "pick out" the glitter with the brush. Then, apply it wherever you want it to go! That's how I was able to have the glitter look like it's fading upwards, and it's seriously super easy with a little brush (and way less messy!). You don't have to do a full coat of polish either because when you apply the top coat (which everyone does, right? *peers over glasses*) that layer will even everything out. Yay!
Have an awesome weekend, everyone! And I can't wait to see what you've been up to! There have been some new bloggers linking up lately, so let's all make them feel welcome! :)