Welcome to The Nail Files!


*shakes tambourine*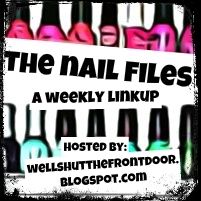 **Link up with us to show off your cute manis and/or pedis (either done by yourself or in a salon), nail polish purchases and/or recommendations, nail polish tips--whatever nail-related thing you'd like! And please either use the new button or link back to this blog. Thanks!**
So, this week is bittersweet for most kiddies, tweenies, and teenies because it's back-to-school time! And what better way (for the parents) to celebrate than a themed mani? Haha! I've seen two designs on Pinterest as of late: lined loose leaf paper and pencils with erasers and because they were both so cute, I couldn't decide on just one!
Ta dah! Haha!
My video tutorial shows my very first time trying either and I have to say that they turned out really well. And if I can do it, YOU CAN DO IT TOO (yay) so check out the video to see how it all comes together! This one's almost 20 minutes, but you get TWO designs so it's totally worth it. Ha! That said you may want to have your breakfast AND coffee/tea/caffeine IV ready to go before watching. Or, you know, sneak it in during a slower part of your day. ;)
Psyched to see what you've got going on this week!