Welcome to The Nail Files!


*fires cannon*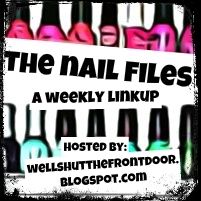 **Link up with us to show off your cute manis (either done by yourself or in a salon), nail polish purchases and/or recommendations, nail polish tips--whatever nail-related thing you'd like! And please either use the new button or link back to this blog. Thanks!**
After recovering
from my brush with fame
(pun obviously intended) I decided to do something different this week (which you probably guessed already from the post title). For the last few months, I've posted a couple of gradient manicures and have gotten a lot of comments saying that it's a tricky technique to get a hang of. Which, to be honest, is totally true. It took me forever to figure out how to do it, so I thought that I'd make a video tutorial to share with you.
Here's the mani that I ended up with after I demonstrated a two colour, three colour, four colour, and five colour gradient:
And here's the link to the video (Err...be nice because it's my very first video, kay?) The quality isn't the greatest, as there was QUITE a learning curve, and you'll probably want to make it full-screen (or at least a little bigger). It's just under 16 minutes long so you may want to get a coffee or something. Haha! Let me know if you find the tutorial helpful because I can always do another! :)
Can't wait to see everyone's pretty fingers and toes!
And don't forget about
The Nail Files's Pinterest Board
! Each week, all of the manis are pinned so you'll be able to see what everyone's been up to in past weeks. :)