Welcome to The Nail Files!
*sounds airhorn*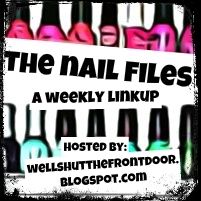 **Link up with us to show off your cute manis (either done by yourself or in a salon), nail polish purchases and/or recommendations, nail polish tips--whatever nail-related thing you'd like! And please either use the new button or link back to this blog. Thanks!**
***
I love pastels. Not more than neons, mind you, but I do love them a lot. This week, I decided to wear a bunch of pastels at once and although I thought it would look amazing, it just...well...didn't. The combo didn't look bad, per say, but the muted colours were a bit lacklustre and left me longing for more.
What I used:
My first attempt to make things more interesting was to add a gradient to my feature fingers and even though they looked better, they still weren't great. Two days later, while driving, I finally figured out what the problem was. In essence, they were too pretty. Now, don't get me wrong because I love me some pretty things but the pastels were too dainty-pretty for me. So, I went to my rack-o-polish and found a solution: Black Tie Optional. The black-and-white bits added just enough punk-ish-ness to make me fall in love and even though it took me three tries to get this one just right, it all worked out in the end. Ha!
The (eventual) mani:
Can't wait to see what you're all rocking!!