Welcome to The Nail Files!
*bangs bongos*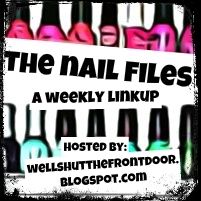 **Link up with us to show off your cute manis (either done by yourself or in a salon), nail polish purchases and/or recommendations, nail polish tips--whatever nail-related thing you'd like! And please either use the new button or link back to this blog. Thanks!**
***
Three weeks ago, something very bad happened. I went to Sally's to check out the China Glaze Sunsational collection when upon my arrival, the manager looked at me, teary eyed, and told me that it wasn't being shipped to Canada. When she'd first heard the news, she couldn't believe it either so she went to the fancy beauty supply store where you need a license...but they were also sans Sunsational.

Don't panic, I told myself. You can just buy them from Amazon but when I went to finalize my order, a terrible message popped up that stated: RESTRICTED ITEMS, CANNOT SHIP TO CANADA.
Naturally, I cried hysterically for hours was sad.
And even worse, because I couldn't have them, suddenly they became the most beautiful colours of all time and I was left no other choice but to send an email to Canadian Customs inquiring as to why they would be so willing to ruin my life deprive me from The Most Beautiful Polishes Of All Time. Okay, I didn't really do that but I did think about it. A lot.


But then, something AMAZING happened! I found out about
Polish Canada
!! I don't know how they did it, folks, but they managed to get their cute manicured hands on the Sunsational collection and two days after I placed my order, my colour dreams turned into a reality.
The SUNSATIONAL collection includes That's Shore Bright, Highlight of My Summer and Too Yacht to Handle. My order also included Tart-y For The Party and Aquadelic.


I couldn't decide which ones I wanted to use and thanks to Pinterest, I found a cute design that showcases all of them!
And here's what I did:
Obviously, I needed to add a little sparkle but aside from that, I pretty much just copied the Pin. Ha!
The tracing on my right hand isn't nearly as smooth as it is on my left but if you have a steady hand then it's worth giving it a go!
Happy Friday, everyone! I can't wait to see what you're rocking this week!