Welcome to The Nail Files!


*sounds trumpets*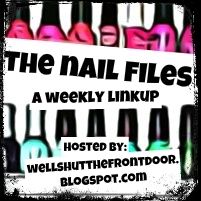 **Link up with us to show off your cute manis (either done by yourself or in a salon), nail polish purchases and/or recommendations, nail polish tips--whatever nail-related thing you'd like! And please either use the new button or link back to this blog. Thanks!**
***
I love chevron manicures. I pin them all the time and watch tutorials but whenever I try to do the pattern by hand, it never turns out. Ever. The lines end up with all different thicknesses and the triangle peaks are never pointed, no matter how much wine I drink many times I try. I've looked on etsy for chevron striping tape as well but have only been able to find pre-cut ones and because my nail beds are so big, they're all too small!!
So, naturally, I bought a sheet and then waited by the mailboxes every day to the point that my delivery person was totally creeped out patiently for them to arrive. Finally, after what felt like three eternities (I think it was actually a week), they did!
And here's what I did with them!
EeeEEeeeeEEE!!! They're perfect!
To start, I did two coats of paper mache and let it dry completely. Then, I applied the striping tape, pressing firmly and into the side-corner of my nail (is there a real name for that? It can't be side-corner. Haha). Then, I did two quick coats of creative fantasy and turned up turquoise, counted 30 Mississippi's, and peeled them off.
The verdict: I LOVE CHEVRON STRIPING TAPE! Yes, it may be considered cheating by some but unless those nail experts are willing to come to my house and give me a mani, the tape is the only way I'll be rocking chevrons. Haha! So if you're into the chevron look and aren't naturally talented at free-handing crisp edges, then I can't recommend them enough. This mani was SUPER easy and it's perfect! Yay for easy and fun designs!
(And just for the record, Inspired Nails has no idea I wrote this post, nor did they supply me with anything, although if they were to in the future, I'd totally be into it *side-eyes Inspired Nails* Haha!).
What did you do this week? Link up and show them off!