Wohoo! It's time for The Nail Files!

*pounds the alarm*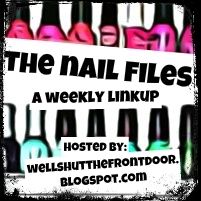 **Link up with us to show off your cute manis (either done by yourself or in a salon), nail polish purchases and/or recommendations, nail polish tips--whatever nail-related thing you'd like! And please use the button or link back to this blog. Thanks!**
***
This week, I was all about fast and efficient nails because my life had an atom bomb of crazy dropped on it and I've barely had time to brush my teeth, let alone do a manicure. That said, when I found a super sweet deal on a new Nicole by OPI polish:
A Gold Winter's Night
--only $4--I decided it was The Universe's way of telling me that I should carve out a few minutes to try it out. Haha!
The gold strips, pinky-purple micro glitter and occasional teal strip in A Gold Winter's Night make for a totally multidimensional finish AND I FREAKING LOVE IT!
I did two coats of Immortal (which also has pink and blue micro glitter even though it's kind of hard to see), followed by two coats of A Gold Winter's Night for my ring finger and then two coats of Felicity on my pointer finger.
Wham-bam-thank-you-ma'am, this mani took about 20 minutes and after a coat of Seche Vite, I was on my sparkly and subtle-y coordinated way. Ha!
Happy weekend everyone! Can't wait to see what you've come up with this week!