Wohoo! It's time for The Nail Files!

*clangs cymbals*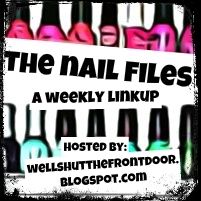 **Link up with us to show off your cute manis (either done by yourself or in a salon), nail polish purchases and/or recommendations, nail polish tips--whatever nail-related thing you'd like! And please either use the new button or link back to this blog. Thanks!**
***
Guys, I've got a problem...

Last week, I shared my happiness in discovering non-cut chevron striping tape and now, I can't stop using them! Haha! They're just so pretty, and easy (that's what s/he said? haha!)

This time, though, I decided to crank it up a notch and try a gradient-esque design with some bright pastels (as I'm being dragged against my will into the fall, haha).
What I used (aka, basically half of the CG Sunsational Collection, haha):
And the mani:
As usual, I started with two coats of paper mache. Then, I applied the chevron stickers (4 per nail). With a narrow, flat blush, I did two quick coats of each of the colours (starting with the lightest at the bottom, and finishing with the darkest, at the top). By the time I had finished applying the last colour on my thumb, the strips on my ring finger were ready to remove, quickly followed by the ones on my thumb. Two coats of Seche Vite (one going across my nail and then, when dry, another from top to bottom) and voila! An almost-gradient-chevron mani!
I'd like to say that I'll have something different for you next week but I make no promises. Haha!
Happy weekend, everyone!
(And watch yo-self today because it's Friday the 13th and sometimes people freak the eff out. Safety first!)