Wohoo! It's time for The Nail Files!

*moonwalks*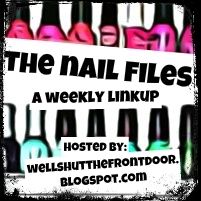 **Link up with us to show off your cute manis (either done by yourself or in a salon), nail polish purchases and/or recommendations, nail polish tips--whatever nail-related thing you'd like! And please use the button or link back to this blog. Thanks!**
***
If you've made the rounds at The Nail Files before, you know about
Bailey
and
her freakishly amazing ability to get symmetrical dots
(not that I'm jealous...okay, I'm totally jealous). I asked her what her secret was (it was practicing, which wasn't quite as magical an answer as I was expecting, haha) and after spending some time dotting a piece of paper, I decided that I was ready to give it a go. And you know what?
IT TOTALLY WORKED!
Here's what I used:
And here's what I did!
Not only was I able to do symmetrical dots, but I did TWO DIFFERENT SIZES of symmetrical dots and all because I took my sweet time and did a whole bunch of practice dots right before.
So although it takes way longer, practicing really did make them perfect (damn there being no easy way, am I right? Haha!).
Link up and show off your pretty colour choices for the week! I need some fall inspiration!