Wohoo! It's time for The Nail Files!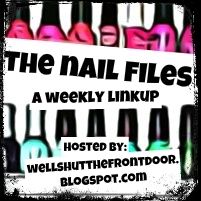 **Link up with us to show off your cute manis (either done by yourself or in a salon), nail polish purchases and/or recommendations, nail polish tips--whatever nail-related thing you'd like! And please use the button or link back to this blog. Thanks!**
***
This week, I was all about the simple mani. Call it laziness if you will but sometimes, a gal's just gotta be fast and easy, right? Wait...why does that look bad now that I read it back? Haha! Lack of eloquence aside, I'm sure you get what I'm saying.
I used exactly two polishes for this mani, both by Finger Paints: Paper Mache and Black Expressionism, and two makeup sponges (one for each hand).
I did one coat of white to start, and then two coats of gradient black and white on top. Then, I did a coat of Seche Vite, went to sleep, and peeled off the polish in the morning when I was in the shower. Haha! No, it wasn't the classiest of moves but the mani turned out great! After the polish was gone from my skin, I cleaned up my cuticles with some nail polish remover and a brush.
This was my first time doing a gradient with the darker colour on the bottom and I've gotta say that I dig it! It didn't take long (sleep time, aside, haha) and it's definitely a look that I'll do again.
And hey! If you're scared of doing a gradient, don't be! I did a little video tutorial that breaks it all down (plus you get to see how awesome I am "in person" - haha!)
so click here to see that post
.
Happy weekend everyone! And an especially happy Thanksgiving Weekend to my Canadian peeps!