Yay!!
It's time for the nail files!!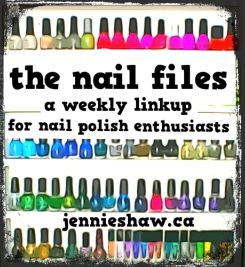 **Link up with us to show off your cute manis (either done by yourself or in a salon), nail polish purchases and/or recommendations, nail polish tips--whatever nail-related thing you'd like! And please use the button and/or link back to this blog. Thanks!**
***
Hello there, lovelies! Halloween is just around the corner and, frankly, it can't come soon enough because I'm very tired of having to close my eyes and plug my ears while yelling LALALALALA during all of the scary movie trailers. That said, I'm a sucker for a good theme so there was no was I wasn't going to do a Halloween mani. Haha!
Here's what I used:
And here's what I did!
Haha!! Googly eyes are so funny. Err...I mean SCARY, because this is supposed to be a Halloween mani.
I did two coats of Cleopatra, and then two coats of Razzle Me Dazzle Me on the non googly-eye nails. For those, I did two coats of Cleopatra and then used two different sized dotting tools to make the eyes: one large dot of white, followed by a smaller dot of black. I used Seche Vite as a top coat, which took away the latex finish, but I still find that it looks slightly different from a standard black polish.
And if you're thinking to yourself, Gee whiz, I sure wish that I had some dotting tools so I could make some awesome googly eyes, then you're in luck because I'm giving some away!
Not only that, but I'm giving away a WHOLE LOT MORE!
*points while jumping up and down*
1 set of nail art brushes
1 set of dotting tools
1 bottle of Seche Vite Top Coat
1 bottle of Seche Vite Collage Overlay
1 bottle of China Glaze Patent Leather Top Coat
(the shiniest of all the top coats, in my opinion)
1 bottle of China Glaze Razzle Me Dazzle Me
(yes, the same one I used for this week's mani, but from my personal collection, obviously, ha!)
1 bottle of Finger Paints Paper Mache
(the best base white, in my opinion)
10 assorted striping tapes
1 set of China Glaze nail strips
(because sometimes there just isn't time for bottled polish, ha!)
Basically, I put together a little kit that has everything I think is a nail art essential (as well as two sparkle polishes because sparkles make everything better).
The giveaway will be open until midnight on November 1st EST (next Friday), and is only open to residents of North America. Sorry to other peeps, but this is a pretty heavy box to mail.
A few other nail filers have been kind enough to help spread the word, so make sure you check out their links in the rafflecopter form!
So link up your nail files posts this week (for 10 extra entries!!) and if you don't have a post up today, then you have time to get one up for next week to snag the extra entries! After you've checked out what all the nail filers have been up to, scoot down to the rafflecopter form! Good luck! :)
a Rafflecopter giveaway