Wohoo! It's time for The Nail Files!

*prances*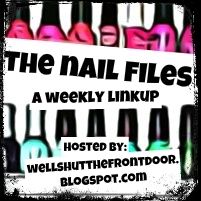 **Link up with us to show off your cute manis (either done by yourself or in a salon), nail polish purchases and/or recommendations, nail polish tips--whatever nail-related thing you'd like! And please use the button or link back to this blog. Thanks!**
***
I'm going to be honest, I have no idea where the inspiration for this week's mani came from. Haha! I knew I wanted to use
Man Hunt
because it's such a pretty blue, and I knew I'd need some sparkle, hence
Dorothy Who?
, and the rest just kind of happened.
Here's what I used:
For some reason, Man Hunt photographed WAY lighter than it is in real life. You've been warned.
And the mani:
I love the overall look and it was nice to make use of my longer nails (that have just recently come back, yay!). The anchor is a sticker from the same kit my chevron stickers came from and it only took two coats of top coat to cover the ridges.
What did you do this week? Link up and show off! :)