Yay!! It's time for the nail files!!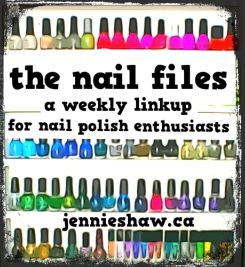 **Link up with us to show off your cute manis (either done by yourself or in a salon), nail polish purchases and/or recommendations, nail polish tips--whatever nail-related thing you'd like! And please use the button and/or link back to this blog. Thanks!**
***
No, you're not lost, I just got an extreme makeover, courtesy of Nikki from Delightful Designs! Not only that, but my domain name has been changed as well. Yes, it's safe to say that I'm feeling like a more legit writer with my actual name out there.
*brushes shoulders off*
And, as you can also see, there's a new nail files button. I PROMISE that this will be the last change for a long time. Ha! Oh, and I have no idea why the little text box doesn't have any actual text in it. Hopefully that will be remidied by next week. :)
Okay, ON WITH THE NAILS!
I really dug the black and white gradient from last week, so I decided to keep the monochromatic vibe going for this week, too. Only this time, I added some sparkle (because, let's be real, sparkles make everything better).
What I used:
The Mani:
When I started thinking about what other black-and-white mani I could do, I looked for inspiration from one of my favourite animals, the snow leopard. However, despite going to the zoo on multiple occasions to see the snow leopards, I never even got a glimpse because they were always sleeping behind a wooden wall at the back of their enclosed area. However, thanks to the internet, I know what they look like, so SCREW YOU SLEEPY TORONTO ZOO SNOW LEOPARDS. I WILL STILL BE INSPIRED BY YOU EVEN THOUGH YOU'RE MORE OF AN ENIGMA THAN A REAL ANIMAL.
Wow...I guess I still haven't quite gotten over that. Haha!
Unexpected childhood trauma flash-back aside, I love how the leopard spots turned out. I ran out of my favourite silver sparkle (OPI's Crown Me Already) and have been mourning the loss but I think that Set in Stones is a pretty good replacement. I did two coats of it on my pointer finger and the coverage was impressive.
Now it's your turn! Link up and show off all your pretty nails!
Oh, and here's a little secret: Next week, I'm doing a REALLY GOOD nail-related giveaway and you'll get extra entries if you have a nail files post to link up. I wanted to figure out a way to give regular nail filers and readers an edge, and think this heads-up is the best way. You're welcome. Ha! So if you've been making the rounds for a while and haven't linked up yet, this gives you some time to get a post together for next week. And for those who have been around for a while, but haven't linked up lately, you also have a week to put a post together. Trust me, if you've ever thought about wanting to try nail art, but don't have the tools and supplies, you're totally going to want to enter. And even if you already have supplies, you can always use more, right? :)