Wohoo!! It's time for the nail files!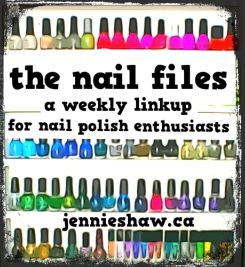 **Link up with us to show off your cute manis (either done by yourself or in a salon), nail polish purchases and/or recommendations, nail polish tips--whatever nail-related thing you'd like! And please use the button and/or link back to this blog. Thanks!**
***
I know that it's November 1st, but I still thought I'd share the mani I did to match my Halloween costume from last Saturday.
Here's what I used for my matching mani:
And here's what I did!
For the gradient, I started with one coat of Cleopatra, and then two coats with a sponge with both Cleopatra and Felicity. Click here to watch my gradient tutorial! When they were dry, I added a coat of Paris (from Julep, not pictured because I forgot, whoops) to the tips for some sparkle!
For the leopard, I did two coats of Felicity, and then randomly put blobs of I'm Not Lion with a dotting tool. When that was dry, I went around the edges of the sparkle with Cleopatra (using a smaller dotting tool).
And speaking of dotting tools, have you entered my awesome nail art essential giveaway? Well, after you see what the other nail filers are sharing for the week, scroll down and enter! The giveaway is open until midnight tonight (EST)! Good luck!
a Rafflecopter giveaway