Wohoo!! It's time for the nail files!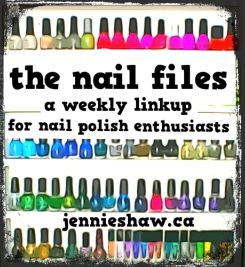 **Link up with us to show off your cute manis (either done by yourself or in a salon), nail polish purchases and/or recommendations, nail polish tips--whatever nail-related thing you'd like! And please use the button and/or link back to this blog. Thanks!**
***
I
n case you don't know, I'm a total kate spade fangirl. I have far too many bags, accessories, and even a few pieces of clothing and you can bet your bottom dollar that I stalk the sale section like a fiend. Haha! But recently, I've been obsessed with a new pattern of theirs so I decided to do a little tribute because
…
well
…
I can't afford to actually buy anything with the pattern. Haha!! I posted a pic on my Instagram account but I thought I'd share it for the nail files, too, because I love it so much!
What I used:
The mani:
The dots are overlapped in the pattern, so that's what I did with my feature nails. It took longer because I had to alternate colours instead of doing one colour, letting it dry, and then adding another, but it was the only way to get the legit look. I used a larger dotting tool for the bottom (and top) and then a smaller one to fade out the dots. Wohoo for gorgeous dresses that inspire pretty manis! Haha!
Can't wait to see what you're all rocking this week!