Wohoo!! It's time for the nail files!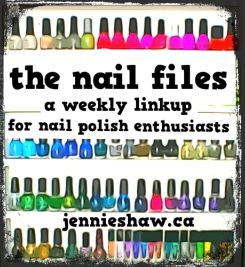 **Link up with us to show off your cute manis (either done by yourself or in a salon), nail polish purchases and/or recommendations, nail polish tips--whatever nail-related thing you'd like! And please use the button and/or link back to this blog. Thanks!**
***
Ever have one of those manis that just never looks right so you keep heaping on different glitter until it's dangerous to look at your fingers without sunglasses?
No?
Just me then. Haha!
As you can see, the glitter is a tad out of control but is that really a problem?
Hint: the answer is no. Haha!
On top of two coats of Wild Wisteria, I started with one coat of Glitter All The Way (too mardi-gras-esque)…followed by a coat of Can't Be Tamed (better, but still mildly mardi-gras-esque)…then a coat of Polka.com (too much purple, kind of dulled Can't Be Tamed)…and finally, a coat of Your Present Required (perfection!). I'm sad because this picture doesn't do the shine justice AT ALL, but when I went into the light, my iPhone had a mini-meltdown because the insane glittery-ness made it impossible to focus. Hahaha!
Have an awesome weekend! Especially for you Americans--leftover turkey sandwiches, HORRAY!