Wohoo!! It's time for the nail files!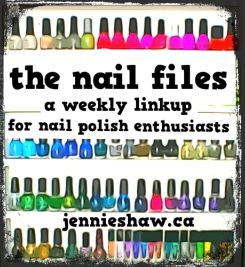 **Link up with us to show off your cute manis (either done by yourself or in a salon), nail polish purchases and/or recommendations, nail polish tips--whatever nail-related thing you'd like! And please use the button and/or link back to this blog. Thanks!**
***
It's Holiday Nail Polish Collection Time and I could NOT be more excited about it! Haha!! I picked up a few new bottles the other day (Sally's had buy two, get one free!!) and China Glaze's Your Present Required caught my eye the second I walked in. Mostly because it's just so darn pretty!!
What I used:
Sorry about the unfocused-ness here. I accidentally deleted the "good" one and then was too lazy busy to take another.
The Mani:
This mani was pretty easy: two coats of everything! Haha!
I really loooooooooooooove this sparkle, guys. Like, a lot. A WHOLE LOT. To the point that I've already thought about buying another bottle because it's a limited edition. But then, I was picking up a few things from Walmart and I saw this!!
My first real-life dupe
!!
Yes, my ring finger has a different base coat. I tried it first with China Glaze Flying Dragon but I wasn't so much a fan. I MUCH prefer the white. Haha!
China Glaze, Your Present Required - $5.95
Hard Candy, party central - $3.47
That's a crazy different price!! CRAZY DIFFERENT! Being a proud recessionista, I nearly died because it is legit the exact same polish. Seriously. You'd never be able to tell the difference.
So there you go! If you love Your Present Required but haven't bought it yet, there's a much cheaper alternative out there! Yay!
Have an awesome weekend, everyone!