Yahoo!! It's time for the nail files!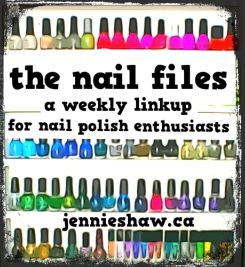 **Link up with us to show off your cute manis (either done by yourself or in a salon), nail polish purchases and/or recommendations, nail polish tips--whatever nail-related thing you'd like! And please use the button and/or link back to this blog. Thanks!**
***
Just this week (three days ago, to be exact) I received my first "complimentary polish for an honest review," which pretty much made my life.
Side Note: When Nail Polish Canada contacted me last month to do a review, I nearly lost my mind because it (a) made me feel awesome and (b) it meant I'd get sample polishes!! Ha!
I got five to review (eeeee!), which you'll get to see when I post my formal review in a couple of weeks, but one polish was so amazing, SO INCREDIBLE that I was all: THIS MUST BE IN MY BIRTHDAY MANICURE.
And you know what? My birthday's on Monday, so that worked out perfectly.
Yes, that means I'm an almost-Christmas baby, so although you were probably expecting another holiday manicure this week, you get a birthday one instead. TRICKED YOU! Hahaha!
Here's the polish that captured my heart:
It's called magic cake and it's amaaaaaazing. I mean, not only does it look like vanilla sprinkle cake (making it super birthday-mani-appropriate) but it's also a bit like Saved By The Bell in a bottle! Haha!
Here's everything else that I used with it:
And here's the mani!
Pinky: Two coats of Warhol Wannabe.
Ring and Middle: Two coats of Paper Mache and then one thick coat of magic cake, applied with a flat nail art brush because otherwise, the confetti gets all glooped together (this is not specific to this polish, but to all big glitter/sparkle/confetti polish).
Pointer: One coat of Sparkle and Snowflake, followed by two coats of set in stones.
Thumb: Two coats of Paper Mache and then one coat of Celtic Sun.
I freaking loooooooooooove this polish, guys. It's the funnest polish EVAAAAAAAA! It makes me want to draw out the letters of one word in each sentaaaaaaance! Haha! But seriously, it's the best confetti colour combo I've seen yet and just looking at it makes me happy, therefore making it the perfect birthday polish! YAY!
And because next Friday is after Christmas, Merry Christmas and Happy Holidays!