Yahoo!! It's time for the nail files!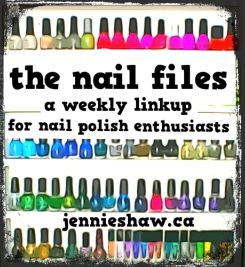 **Link up with us to show off your cute manis (either done by yourself or in a salon), nail polish purchases and/or recommendations, nail polish tips--whatever nail-related thing you'd like! And please use the button and/or link back to this blog. Thanks!**
***
So, combining glitters seems to be my thing right now and I can't stop, guys. I CAN'T STOP! The good news is that I don't really want to, so it all works out. Haha!
What I used:
The Mani:
Two coats of Blu and then, using a flat nail brush, I added Sweet Dreams to just over halfway down my nail. Then, when it was dry, I used the same flat brush to add a coat of Mosaic Madness to the top third.
Although I haven't seen the movie Frozen, I've watched Kristen Bell (who I LOVE) promote the movie all over the place and that's almost the same thing, right? Haha!! Anyway, this mani is my tribute to the movie (mostly Kristen Bell, ha).
Happy Weekend Everyone! (And wish me luck as we're in the midst of our long-distance move! I'll be a more active blogger in a couple of weeks, PROMISE!)