Yahoo!! It's time for the nail files!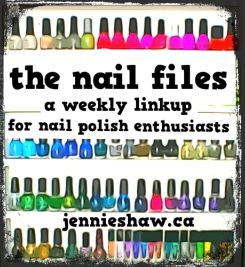 **Link up with us to show off your cute manis (either done by yourself or in a salon), nail polish purchases and/or recommendations, nail polish tips--whatever nail-related thing you'd like! And please use the button and/or link back to this blog. Thanks!**
***
It's hard to believe but Christmas is just around the corner (as is my birthday--YAY!). So, I thought I'd share my holiday manicure. Originally, I did it to enter the China Glaze Holiglaze Contest but when I went to submit my picture, I read in the fine print that I couldn't reference a copyrighted image so after crying hysterically I decided to use for the nail files! Also, my nails are a DISASTER after moving so there's no way I'm showing them to you until they've had some time to recover. Ha!
If you've seen A Christmas Story, you'll get my incredibly awesome design (not that I'm biased, haha). If not, this clip will fill you in. Also, if you truly haven't seen A Christmas Story, you really should because it's all kinds of awesome. You can thank me later. Ha!
My mani:
What do you have planned for a holiday manicure? Only few days left to squeeze them in!