Yahoo!! It's time for the nail files!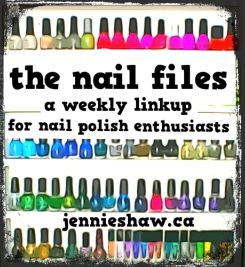 **Link up with us to show off your cute manis (either done by yourself or in a salon), nail polish purchases and/or recommendations, nail polish tips--whatever nail-related thing you'd like! And please use the button and/or link back to this blog. Thanks!**
***
Yeah, yeah, Christmas is over but I still wanted to share the mani I rocked for the holidays! Haha!
Special shout out to my baby bro for giving me a photo light box for Christmas! #uppingmygame
Pinky: Two coats of Paper Mache and then two coats of set in stones (which isn't in the picture of polishes because I forgot, whoops!).
Ring finger: Two coats of Paper Mache. When completely dry, I cut five bits of striping tape to make a triangle and then three criss-cross stripes over top. After pressing down because the strips are finicky sometimes, I did two quick coats of Running in Circles and then pulled off the tape right away. To seal the tree, I used one coat of HK Girl Fast Drying Top Coat. When that was dry, I did another coat of Top Coat and then pressed the star decal and the garland stripes (one with six dots, one with five dots, and one with three dots). I waited until I finished all my other nails to do a final coat of Top Coat. (Side Note: this seems like an excessive step-by-step list but I swear it wasn't complicated--just time consuming!)
Middle finger: Two coats of Paper Mache, followed by two coats of There's Snow One Like You.
Pointer finger: One coat of Running in Circles and then two coats of Monster Mash.
Thumb:
Inspired by the mega-talented Bailey
- two coats of Paper Mache and, when it was totally dry, I added the dots with a large dotting tool. The ribbon loops were a bey-otch, so I used the Stripe Rite brush that I "tailored" for my
leg-lamp mani
by cutting off all but about four bristles. Ha!
Hope you're all having an awesome holiday season (and that you've recovered from your turkey comas! Ha!). See you next year! You know, cause next Friday is January 3rd. #badjoke #hadtodoit