Yipee!! It's time for the nail files!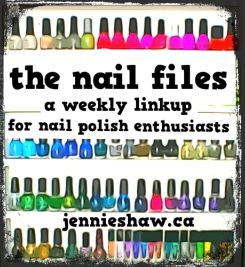 **Link up with us to show off your cute manis (either done by yourself or in a salon), nail polish purchases and/or recommendations, nail polish tips--whatever nail-related thing you'd like! And please use the button and/or link back to this blog. Thanks!**
***
2013 Wrap-ups are all the rage at the moment, so I figured that I'd do one as well! Ha! For your viewing pleasure (or for my vanity, whatever) I humbly present my favourite ten manicures of the year! Err…in no particular order. Oh, and some of the ones for earlier in the year have my old blog address. Okay, I think that's all the clarification you'll need. Ha!
I hope that you all had a kick-ass NYE and are amped up for all that 2014 has to offer!