Yay!! It's time for the nail files!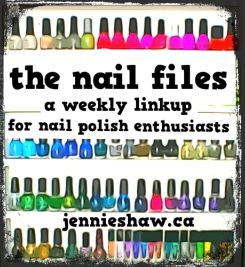 **Link up with us to show off your cute manis (either done by yourself or in a salon), nail polish purchases and/or recommendations, nail polish tips--whatever nail-related thing you'd like! And please use the button and/or link back to this blog. Thanks!**
***
OPI had a competition called Your Nails Rock that I think is over now because I tried to find a link to share but it seems to have disappeared, which is a bummer for you (because it was open to everyone) but also for me because I guess that means I didn't win. Haha! Anyway, I wanted to share the mani because I thought it was super cute (not that I'm biased)!
I used two coats of e.l.f.
Desert Haze
on my pinkie, pointer finger and thumb and two coats of China Glaze
Too Yacht To Handle
on my ring and middle finger. Then, I cut up a bunch of striping tape and made the off-center crosses. After pressing down firmly on the tape, I did two VERY QUICK coats of OPI
You Don't Know Jacques
and then peeled off the tape as fast as humanly possible. To finish, I used Finger Paints
Paper Mache
and a dotting tool to make the little hearts.
(Side Note: this bottle of YDKJ is, um, embarrassingly old and because of that it was pretty thick and brutal to work with. Also, I think that the colour has morphed because it's a lot more grey than I remember, but since it's been so long since I've used it, I can't be sure. Haha!)
Oh, and do you want to know my secret trick for minimizing smudging on such a layered look? Well then come a little closer…
little closer….
It's top coat!
Haha!
A coat of quick-dry top coat between different colours acts as a seal, which means that it will hardly smudge and/or bleed when you add another colour! And that's not all folks! I did two of these hearts twice (because the first ones were sucky) and because I had a layer of top coat overtop YDKJ, I was able to do a super fast swipe on my nail with a cotton pad with a bit of nail polish remover on it and then start again! YAY! (Please note, however, that you only get one do-over. If you try another nail-polish pad swipe, you'll remove some of the colour you're trying to protect.)
Some nail gurus may say this technique is cheating but who the heck cares? I've got other things to do aside from sit around and paint my nails all day so if there's a way I can do an awesome mani and still have time to cook dinner, everyone wins, right? Errr…in case I'm not being clear here, the answer is YES! Haha!
I hope that my little confession helps you in future nail art adventures!
Have an amazing weekend, fellow nail enthusiasts! YAY FOR WEEKENDS!
And don't forget to link up and show off what you're rocking this week!