Wohoo!! It's time for the nail files!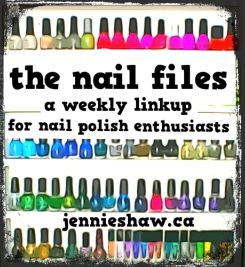 **Link up with us to show off your cute manis (either done by yourself or in a salon), nail polish purchases and/or recommendations, nail polish tips--whatever nail-related thing you'd like! And please use the button and/or link back to this blog. Thanks!**
***
A few weeks ago, I was floored/flabbergasted/flattered when
Nail Polish Canada
contacted me to see if I would be interested in doing a review for them. After I
died
recovered from my shock, I was all: OF COURSE I WOULD LOVE TO THANKYOUSOMUCHTHISISTHEBESTDAYEVER, only with more eloquence and less screaming.
Then, just before Christmas, I got my review package!
First things, first: the packaging!
In a (three-sylable) word: ah-may-zing. I mean, it looks like chapstick! OH THE ORIGINALITY AND ADORABLENESS! I can't handle it!!
Well done there, rainbow honey. Well done.
*slow clap*
Okay, so now that we've gotten that out of the way (haha) onto the swatches!
Two coats, with top coat (because I just don't do no topcoat, like ever, so I figured I'd swatch the polish as I'd wear it). This is a super-mega full-coverage glitter isn't very rough to the touch. There are copper and pewter-irridescent flecks along with the gold glitter, which gives it a lot of dimension. It's a tad too warm for me, but an excellent choice if that's what you're looking for.
Two coats, overtop two coats of Finger Paints Paper Mache (because without it, you wouldn't see the glitter bits very well), followed by top coat. This polish was a nightmare to work with. All of the larger butterfly and heart glitter was stuck at the bottom of the bottle and I literally had to use a bamboo stick to get them out and then place them over my nails, but they clumped together and it was a pain to separate them before the polish got sticky (grr). The emphasis on pink and blue pastels isn't really my deal but for a more girlie girl, I think it'd be a home run. And the pops of brighter pink from the squares make it a bit funkier than a traditional princess kinda polish, so keep that in mind, too.
Three coats, followed by top coat. This polish was a huge disappointment. In the bottle, mint flavor looks incredible but it just didn't translate when it was on. The subtle gold shimmer was completely gone by the third coat, and even with the layers upon layers of polish, it was still streaky in parts. But even though the gold shimmer didn't shine through on my nails, it sure stuck around on my skin after I removed it. *headdesk* Seriously. I even scrubbed my hands with a loofa afterwards, but my hands were still shiny (grrr).
Two coats, followed by top coat. The standout colour of the collection is lumine hall. It's a blurple that's the perfect shade of awesome and the micro-glitter and larger glitter bits come together to create an incredibly layered and totally amazeballs look. I cannot stress enough how incredible this polish looks in real life. The bottle doesn't do it justice.
One coat of strategically placed confetti upon two coats of Paper Mache, followed by top coat. Sooooo, if there's one polish you should buy from this collection, this is probably it. As much as I love lumine hall, magic cake is unlike any polish I've seen before. Neon colours are close to my heart, so I'm already on the "notify me" list when it comes back in stock. Be warned, though, that you'll need a toothpick or a small nail art brush to place the confetti because it does not spread well with the brush that comes in the bottle.
Now that the swatches are over, here's how I used magic cake in a mani!
My overall thoughts:
Okay, so here's the deal: I really wanted to love this collection. The packaging is beyond awesome but I wasn't a huge fan of the pastels in i miss you and mint flavor was super streaky and had shimmer that stayed on my hands for days after I removed it. The warm tone of judgement bolt wasn't great for my skin tone, as I look better with cool tones, and all of the polishes smelled pretty bad (i miss you and magic cake were especially stinky).

All-in-all, I'll still totally buy a bottle of magic cake because, like I said, it's unlike any confetti polish I've seen and I'm obsessed with neons but unless you feel the same way, I'm not sure that you necessarily need to buy any of the polishes from this collection. I'll keep my eye on future colour releases from rainbow honey because I like their style, but as far as The Summer of 199X goes, I'll just stick to magic cake.


Thanks so much again to
Nail Polish Canada
for sponsoring this post! The have a great selection of polish (including some that are VERY hard to find) so make sure you check them out the next time you have a hankering for some pretty new colours! And if you're digging rainbow honey's original colour-combos,
then check out the whole collection here!
What are you rocking this week? Link up and show them off!