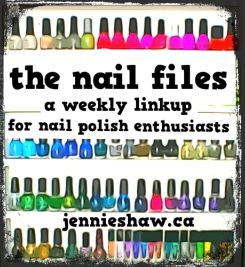 **Link up with us to show off your cute manis (either done by yourself or in a salon), nail polish purchases and/or recommendations, nail polish tips--whatever nail-related thing you'd like! And please use the button and/or link back to this blog. Thanks!**
***
When I realized that I had not one, but TWO yacht-y colours, how could I not do a mani with them? Ha! Also, the pun possibilities were pretty much endless, which totally sealed the deal. There's yacht enough room in this post for all of them. Haha!!
Two coats of Finger Paints
You Yacht To Know Better
on thumb, pointer, and pinky. Two coats of China Glaze
Too Yacht To Handle
on middle and ring finger. Then, a glitter fade with one 3/4 coat of Julep's
Portia,
followed by a half coat of Finger Paints
Peacock Portrait
.
What are you rocking this week? Link up and show them off!
And I hope you have an awesome weekend!