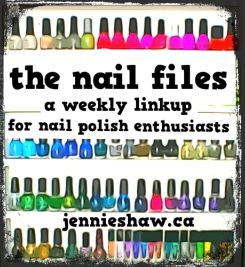 **Link up with us to show off your cute manis (either done by yourself or in a salon), nail polish purchases and/or recommendations, nail polish tips--whatever nail-related thing you'd like! And please use the button and/or link back to this blog. Thanks!**
***
It was brought to my attention last week by
a fellow nail enthusiast
that my
negative space mani
was kind of 80s-esque. And, well, as soon as I finished the mani for this week, I realized that it, too, is kind of 80s-esque. So…uh…what the heck is going on with me? Someone get me to a theme party, stat! Haha! Anyhoo, this mani ended up, like, way cool. So I'm psyched to share it!
Polish used:
Zoomed in:
For the base, I did three coats of
Oxygen
. Yes, three coats. It's just one of those polishes. Le sigh. After a coat of quick dry polish (I'm currently obsessed with Glisten and Glow's
H K Girl
) because, you know, I needed to do three coats of
Oxygen
, I used curved French manicure stickers for the tips. Then, I did two coats of
Margritte's Masterpiece
and
Warhol Wannabe.
When that was about dry, I peeled off the stickers and finished with another coat of top coat.
Zoomed out:
Yay for fun tips!! Fun tips are the best! ESPECIALLY when the working day is done. Or, in this case, the working week. YAY FOR FRIDAY!!
I think that Cyndi would totally approve, don't you? Haha!
Hope everyone has a tubular weekend!