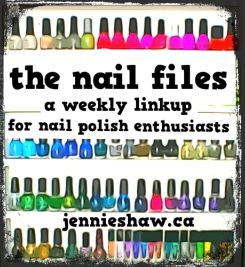 **Link up with us to show off your cute manis (either done by yourself or in a salon), nail polish purchases and/or recommendations, nail polish tips--whatever nail-related thing you'd like! And please use the button and/or link back to this blog. Thanks!**
***
It's Friday, guys. FRIDAY!
And not just that, but it's the Friday of a long weekend up here!!
This year, I had a rough go at deciding how to paint my nails for Valentine's Day. So, because I couldn't quite decide, I've got two manis to show you, which works out well because they're
a couple
of manis and V-Day is all about the couples (Yes, I'm beating this joke by using it here and in my title but it's still funny to me, so I'm not sorry. ha!).
The First V-Day Mani
Polish used:
Zoomed in shot:
How to:
I started with two coats of Step Right Up as the base. Then, with dotting tool 3 (see below), I used Dance Baby and Creative Fantasy for the hearts. And because no mani is complete without just a little sparkle, I used dotting tool 2 and Sparkle and Snowflake for the small dots, randomly placed around the hearts.
My dotting tools come in five different sizes, so I thought it would be helpful to display them all so you can get a better idea instead of my usual "small dotting tool" description. Do you like that I've added this detail?
Zoomed out shot:
The Sequel V-Day Mani
Polish used:
Zoomed in shot:
How to:
I started with two coats of Misty Haze. Then, with dotting tools, 5, 3, and 2, I made different sized hearts with Dance Baby, Tart-y for the Party, and Gossip Over Gimlets. For my pointer finger, I did two coats of Inner Sparkle.
Zoomed out shot:
So there you have it: my couple of V-Day manis! :)
And because getting a long weekend isn't enough to make this week extra awesome in and of itself, I've been nominated for
The Notorious Nails
category of
The Best of Blog Awards
over at
My So-Called Chaos
! Someone has to nominate you, so THANK YOU TO WHOEVER YOU ARE! I LOVE YOU VERY MUCH! THIS IS ALL VERY EXCITING!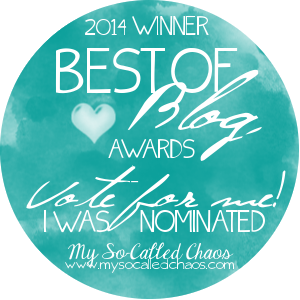 Please click on the above (super cute) button and vote for me! :)
And don't forget to link up and show off your pretty nails. Especially if they're Valentine's Day nails as themed manis are the ultimate best! YAY FOR THEMES!