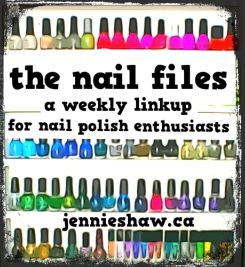 **Link up with us to show off your cute manis (either done by yourself or in a salon), nail polish purchases and/or recommendations, nail polish tips--whatever nail-related thing you'd like! And please use the button and/or link back to this blog. Thanks!**
***
Hello lovlies! I hope that you all had a great week and will have an even better weekend! How's that for some Friday optimism? Haha!
(And yes, there was a small issue yesterday, where this posted accidentally. I finally got around to changing my time zone after our move and, for some reason, it posted my already-scheduled post for Friday. #technologyishardguys)
Here's what I used for this week's mani:
And here's what I did:
Two coats of Queen B (which has skyrocketed to the top of my favourite blurples as I can't seem to stop using it, haha) on each finger except my middle, which has two coats of Gossip Over Gimlets. Then, with a flat nail art brush, I applied three (yes, three) half coats to all the Queen-y nails three two full coats over Gossip. Finishing with a coat of quick dry top coat (because I was going for an "all the glitter" kind of mani this week, ha!)
The glitter of this mani, guys. THE SHINE! It's one of those manis that is literally blinding if you're in direct sunlight. In this picture, my middle finger looks about one tenth of the glitter strength in real life. Honestly, there's probably a chance that I'd blind an astronaut, if the angle was right. Haha!
And here's a little hint if you ever want to wear three coats of hex glitter: Make sure that you have a bamboo stick for taking it off! Otherwise, you'll be scrubbing with a soaked nail polish pad foreeeeeeeever.
Looking forward to seeing what pretty nails everyone is rocking this week!