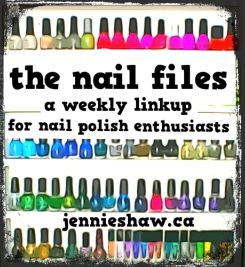 **Link up with us to show off your cute manis (either done by yourself or in a salon), nail polish purchases and/or recommendations, nail polish tips--whatever nail-related thing you'd like! And please use the button and/or link back to this blog. Thanks!**
***
I've started following some nail gurus on Instagram and, a little while ago,
@misspopnails
was at a fashion show, where she'd given the models super cool manis, using a triangle of negative space.
At first, I was like,
Why on earth would she do that? It's so strange.
But the longer I looked at the pictures, the more I was intrigued by the concept. So, here's my
rip-off
@misspopnails
-inspired runway mani!
Polish used:
Zoomed in shot:
How it went down:
I started with two coats of Payton on the solid fingers. Then, with two pieces of striping tape, I made a triangle in the middle of my middle and ring finger nail. One side of the tape got two coats of Payton and the other side got two coats of after school boy blazer. I peeled off the tape, let it dry for about 15 minutes, and then did a coat of top coat, going diagonally, along the colour line to minimize bleeding (which still happened, but it was mostly the striping tape's fault *shakes fist*).
Zoomed out shot:
Special shout-out to my pal AllieBee for leaving her rings at my house and, therefore, making it possible for them to be in this picture. Haha!
So now that I've given the whole negative space thing a go, I can say, quite confidentially, that I looooooooooooooooooooove it! It's such a cool look! Like stained glass! On your fingers! Haha!
Hope you all have an awesomely fun weekend! And don't forget to link up and make the rounds to see what other nail polish enthusiasts are rocking this week!