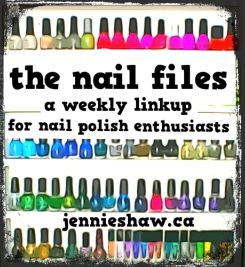 **Link up with us to show off your cute manis (either done by yourself or in a salon), nail polish purchases and/or recommendations, nail polish tips--whatever nail-related thing you'd like! And please use the button and/or link back to this blog. Thanks!**
***
Funny story: this mani was a total accident. Isn't that so fun when that happens (mostly because the majority of the time, accident manis are a hot mess)? Of course it is! Haha!!
What I used:
The mani!
To start, I did two coats of Paper Mache. Once that was dry, I used Aquadelic and a medium length brush to make the stems. Then, with the small dotting tool, I did three dots with Celtic Sun somewhere along the top of the stem, followed by two dots with You Don't Know Jacques! on the bottom of the stem, on the opposite side as the peas. Because the dotting tool is so small, I was able to make small blue flowers with five dots, and then, because it still needed some oomph, I picked out a few pieces of the holographic glitter from Techno and put them randomly on each nail.
I think that the yellow really POPs with this mani, and I love the general colour scheme. Of course, now that I've had time to think about it, I could have made the brown dots into ants but c'est la vie. Haha!
Have an awesome weekend, everyone! And don't forget to link up your post with the pretties you rocked this week!