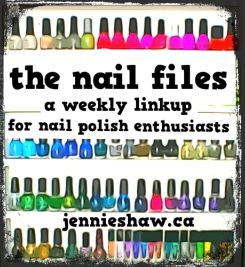 **Link up with us to show off your cute manis (either done by yourself or in a salon), nail polish purchases and/or recommendations, nail polish tips--whatever nail-related thing you'd like! And please use the button and/or link back to this blog. Thanks!**
***
My favourite hex glitter of all-time is Julep's Paris. The moment I first laid eyes on it, I was all I DON'T EVEN CARE WHAT THAT COSTS I MUST HAVE IT AND I MUST HAVE IT NOW. Luckily, it was part of everyone's Maven box of the month. Since then, I've bought another bottle and I'm seriously thinking about getting a third, just in case they stop making it.
And then, just when I thought that it wasn't possible to get better than Paris, China Glaze came out with some new staple colours and they have a hex glitter named Techno, which is EXACTLY the same as Paris, only silver.
I did a mani with both, so you can see just how pretty these two glitters are.
And here they are in a mani:
Two coats of Susie as a base, followed by two coats of both Paris and Techno (with the brushes that came with the bottle)
Close up!
GAH I JUST LOVE THEM BOTH SO MUCH!! IT'S TOO MUCH PRETTY TO HANDLE!
So if you're in the market for an awesome hex glitter, look no farther than Paris and Techno! HEX GLITTER FOR EVERYONE! Haha!!
Have an awesome weekend! And don't forget to link up and make the rounds to see what everyone's rocking!