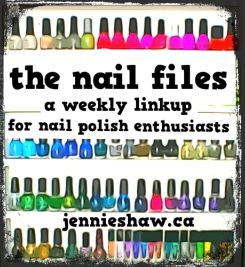 **Link up with us to show off your cute manis (either done by yourself or in a salon), nail polish purchases and/or recommendations, nail polish tips--whatever nail-related thing you'd like! And please use the button and/or link back to this blog. Thanks!**
***
It's been a while since I've done nail art. Not glitter tips, or gradients, but straight up nail art. So, it was excellent timing when
Bailey
tweeted me with a look from
the amazing nailasaurus
…
CHALLENGE ACCEPTED, BAILEY.
*bangs gong*
What I used:
The mani!
Outside, no flash.
I started with two coats of Margritte's Masterpiece and Lilou. When that was totally dry, I got out my weirdly-long striping brush. It's so long, in fact, that it needs its own case because it doesn't fit in with the rest of my brushes--an outcast, if you will. Ha! However, it's THE brush you want to use for lines like this. I swear that once you get the hang of it, it works really well at getting a straight line. So, uh, get one, okay? Also, ignore that REALLY jagged line in the middle of my thumb. I didn't notice its badness until right now. *headdesk*
Okay, so after it was totally dry, I used the Outcast Brush to make a bunch of stripes with Turned Up Turquoise. Isn't it funny how the colour looks different on the blue and yellow? Crazy! Anyway, you're going to want to paint right down to your cuticle to get a "square" looking base. If you stop before your cuticle, you'll get curved bottoms to your lines, which doesn't have the same vibe, ya know? I used the same technique with Paper Mache and Sparkle and Snowflake. And finished it all off by cleaning my cuticles with a much shorter brush and some acetone.
I have to say that
the nailasaurus
is the total bomb-dot-com when it comes to nail inspiration. Thanks so much to
Bailey
for this challenge! (Even though I'm pretty sure that she was just being nice and it wasn't actually a challenge. I'm not competitive, I swear. Okay, okay, maybe I'm a little competitive. Haha!)
Hope you all have an awesome weekend! Spring is here (apparently) so get outside and enjoy!! VITAMIN D FOR EVERYONE! And, as usual, be sure to link up and show off your pretties!