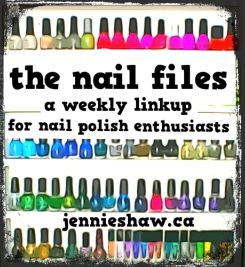 **Link up with us to show off your cute manis (either done by yourself or in a salon), nail polish purchases and/or recommendations, nail polish tips--whatever nail-related thing you'd like! And please use the button and/or link back to this blog. Thanks!**
***
With the stupid, never-ending, snow-dumping, blind-rage-producing winter we've had that is still showing NO signs of leaving, I thought it was incredibly inappropriate that we still had to spring forward last weekend. I mean, how mean is that?! SPRING forward? To what? More snow? Ice storms? White-outs?
*grumbles and mutters and dreams of warmer, coat-free times*
Anyway, after I threw what will hopefully be my last weather-inspired-mini-tantrum, I decided that I'd start faking it until spring decides to grace us with her presence. So, I went to my polish rack to peruse only the brightest and cheeriest colours.
Here's what I decided to use:
Zoomed in:
Outside, no flash
Two coats of Monaco on all fingers except pointer, which has two coats of Too Yacht To Handle. Then, I did two coats of magic cake over top, followed by two coats of top coat because the larger, pink hex bits have spiky sides.
Monaco came in the March Julep box and it's the prettiest, brightest royal blue of all time. I just LOVE how the neon bits from magic cake really POP out against it. Nicely done, Julep!
*tips fedora*
What are you wearing this week? Link up and show off!