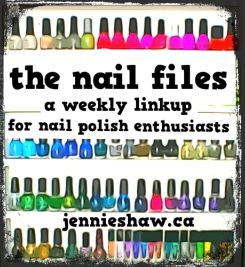 **Link up with us to show off your cute manis (either done by yourself or in a salon), nail polish purchases and/or recommendations, nail polish tips--whatever nail-related thing you'd like! And please use the button and/or link back to this blog. Thanks!**
***
The last couple of weeks have been big on the nail art front and even though it's Easter--an opportunity for super fun ideas--I needed a little break. So, I opted for a simple, yet still very fun and festive mani this week.
Inside, no flash.
Like the title suggests (or just says directly), this mani was very easy to do and took me about half an hour (thanks to quick-dry top coat). To start, I did two coats of each colour: Dance Baby, Blu, Bea, Highlight of my Summer, Harmonious Mess, and Paris. Then, when it was totally dry, I picked out pieces of hex glitter from Paris and placed them in the middle of my nail with the edge of a bamboo stick (three times).
Outside, no flash. Just look at that hex glitter shine! *sighs happily*
There are two different colours of hex glitter in Paris, but I didn't pay any attention to that, pattern wise. I just picked out pieces and put them on my nails. It took way less time than polish dots, and in the sunlight, the sparkle gives off the perfect amount of pop.
I hope you all have an awesome weekend, whether you celebrate Easter or not!! But since you don't necessarily need to celebrate Easter in order to partake in the chocolaty-goodness component, Cadbury Cream Eggs for everyone! Haha!