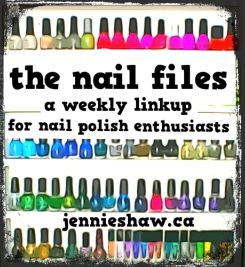 **Link up with us to show off your cute manis (either done by yourself or in a salon), nail polish purchases and/or recommendations, nail polish tips--whatever nail-related thing you'd like! And please use the button and/or link back to this blog. Thanks!**
***
Here's the scoop: it's no secret that I'm a hard-core glitter-addict. Like, to the point that if I could walk around wearing a disco ball as a dress, I probably would. You think I'm kidding, but I'm not. Haha! Anyway, so when I saw China Glaze's Surprise Collection, I dropped my mug of tea on the floor and raced to the car swung by Sally's to see if they were as incredibly awesome as the pictures suggested. And you know what? They were even BETTER!


The one I'm showcasing today is Don't Be a Flake.
I also picked up Gilded Chrome, which was a new release from Finger Paints but although it's a super fun, full-coverage glitter, it kind of got overshadowed by the Surprise collection. Err…sorry, Finger Paints? Haha!
(Side Note: Dear Finger Paints, Please don't be mad about this post. I promise that, sometime in the near future, I'll do a post solely about you. Still friends then? Okay, good.)
Outside, no flash.
I started with two coats of
Oxygen
and when that was dry, added a 1/3 coat of
Gilded Chrome
. Then, with a small-ish flat brush, I put on two coats of
Don't Be A Flake
, moving the bits around until they were in the right place.
Inside, no flash.
So let's talk about why I'm obsessed with China Glaze's Don't Be a Flake.
1. The name is hilarious.
2. The three colours of hex bits have contrast and sparkle. I mean, there's a Tiffany-esque blue WITH a glossy black AND a pink holo. All at once. It's madness! UTTER, GORGEOUS MADNESS!
3. The overall look is peppy and fun and oh-so-different than anything else I have and I just loveitsomuchthatit'shardtofunction.
Do you have any of the China Glaze Surprise Collection? If so, which one are you obsessed with is your favourite?
And don't forget to link up! There's pretty polish to be seen!