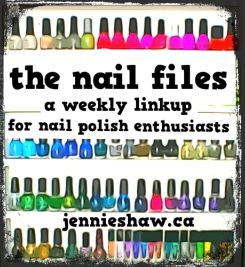 **Link up with us to show off your cute manis (either done by yourself or in a salon), nail polish purchases and/or recommendations, nail polish tips--whatever nail-related thing you'd like! And please use the button and/or link back to this blog. Thanks!**
***
It's been a challenge on the nail front lately. Mostly because I haven't had a ton of time to troll Pinterest, but there's been the added challenge of repainting our kitchen cabinets, which have made wearing polish almost impossible. But not to worry because the painting is almost done. *eyeballs cupboard doors that are only painted on one side* Okay, so they're only about halfway done but still, that's progress, right? Haha!
And it was while I was painting that I noticed a clean line of dots on the drop cloth, thusly inspiring a new mani that I rushed inside to try. Fine, I didn't "rush" as much as I "walked" but that doesn't make for a good story. Ha! In any event, I found inspiration in an unlikely place and isn't that just the best? Hint: the answer is YES!
So here's what I ended up using:
I forgot to include Paper Mache by Finger Paints, which was the base colour.
At first, I was happy with the look of all the pretty sort-of-gradient colours but then I realized there weren't any sparkles.
So, to rectify that situation, I grabbed these:
And here's the final product!
Inside, no flash.
To start, I did two coats of
Paper Mache
and when that
was dry, I got out a medium dotting tool and got to work. Using both ends to make different sized dots, I started with the lightest blue on my pinky,
At Vase Value,
and then continued along with
Too Yacht To Handle
,
Highlight of My Summer
,
In the Lime Light
,
and then S
hake
Yo
ur $$ Maker.
And after the Lack of Sparkle Calamity, I added a few glitter dots on my ring finger with Sparkling Garbage and picked out some bigger glitter bits from Mermaid Tale, breathing in a sigh of relief that it all worked out and I was shiny again. Haha!


Outside, no flash.
The lightest green and blue seem washed out in the outdoor pic but rest assured, they're bright and awesome in real life. I REALLY love the bigger glitter bits on the green dots, so I'll totally be doing that again, and the overall look of this mani is fun without being so bright that you need sunnies (is that better,
Beth
? Haha!).
Happy Friday, everyone! Hope you all have an awesome weekend! And don't forget to link up! :)