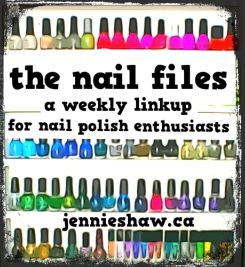 **Link up with us to show off your cute manis (either done by yourself or in a salon), nail polish purchases and/or recommendations, nail polish tips--whatever nail-related thing you'd like! And please use the button and/or link back to this blog. Thanks!**
***
Slowly but surely, I'm making my way through the China Glaze SURPRISE! collection and this week, I'm featuring I'm a Go Glitter, which has small, bright pink hex glitter and larger hex bits in a light blue and light green. It wasn't a polish that I liked right away but on my seventh second trip to Sally's last month, I decided to give it a go. Bahaha, I'm hilarious.
I started with two coats of each polish: I Vant to be A-Lone Star, Aquadelic, and Highlight of My Summer. When that was dry, I dropped some polish from I'm a Go Glitter onto the back of my nail jewel wheel (the point being that I dropped it onto something plastic) and, with a small, flat brush, applied one layer, moving the pieces around so they were in the right place.
I took it easy on the glitter this week and I like the lower-key look it creates. Without all the overlap, you can still really see the base colour. Plus, it made it way easier to take off, which is always good. Haha! The pink hex glitter is bright and the other two colours work really well together, so this definitely another one you should think of picking up. Although, if you've been keeping up with the nail files recently, you know that I've been saying that about every glitter in the SURPRISE collection. Haha!
Have an awesome weekend, everyone! And don't forget to link up! :)