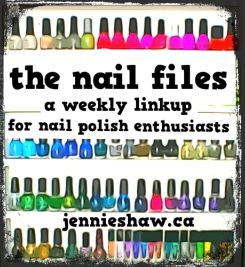 **Link up with us to show off your cute manis (either done by yourself or in a salon), nail polish purchases and/or recommendations, nail polish tips--whatever nail-related thing you'd like! And please use the button and/or link back to this blog. Thanks!**
***
This past weekend, there were blue skies as far as the eye could see and it was a balmy 25-ish degrees. Yes, you read that right. It was basically the first nice day we've had in…well…six months. We sat outside, soaked up the sun (some may have even gotten a little burnt *eyeballs The Remix*) and generally loved life…and then we woke up on Monday morning to rain, which hasn't stopped since.
So in hopes that the summer-ish weather will come back soon, I painted my nails in a super summer-y way with super summer-y colours. Haha! I love putting hyphenated endings on words. It's just the best-est.
Inside, no flash.
To start, I did three coats of I'm With the Lifeguard (sooooo streaky), and then two coats of Skinny Dip, and Paper Mache. Why did I choose these colours? Because of the summer-y names, of course! Err…well, aside from Paper Mache and magic cake. Haha! After all the base coats were dry, I did 1.3 coats of magic cake, which means that I did one full coat and then filled in the gaps by picking out a few bits with a small nail art brush and applying them, where needed.
Outside, no flash.
So the only weird thing is that the pink bits in magic cake are hot pink, not the purply-pink it photographs as. I guess it's kind of like China Glaze's Flip Flop Fantasy, in that it just doesn't look the same in pictures. Anyhoo, the pink in magic cake is a true hot pink and it's freaking amazing.
Also amazing? I'm With the Lifeguard. I've seen it for a while but didn't think much of it, but now that I have a bottle (shout-out to Sally's BOGO sale last month, haha) I can't believe I lived for so long without it. It's the brightest apple green ever and totally worth doing the three coats. It just POPS guys and gals! And it matches the flicks in magic cake perfectly! Woot!
So here's hoping that this weekend will have some of the same beeeeeeeeeeautiful weather we got last weekend! And if you're lucky enough to have a long weekend, HAPPY LONG WEEKEND!