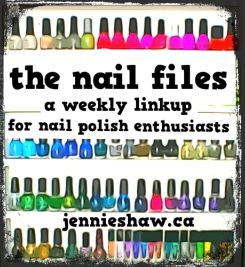 **Link up with us to show off your cute manis (either done by yourself or in a salon), nail polish purchases and/or recommendations, nail polish tips--whatever nail-related thing you'd like! And please use the button and/or link back to this blog. Thanks!**
***
We're all busy. It's just the way it is. And sometimes, that busy-ness affects how much time we can spare to do our nails. But just because you've only got about half an hour doesn't mean that you can't still have a super cute mani. Trust me, grab a bottle of your favourite quick-dry top coat and scroll down to see what just two coats of polish can do.
Outside, no flash.
I stated with one coat of Harmonious Mess on each nail. Then, I did a second coat of Harmonious Mess on my pinky, pointer finger, and thumb, while on my middle and ring finger, I did one coat of It's A Trap-eze! After letting it dry for about five minutes, I topped each nail with a coat of quick-dry top coat, cleaned up my cuticles and was out the door, running to the post office before it closed for the day.
Inside, no flash.
The built-in sparkles and sheer pastel blue-y of
It's a Trap-eze!
means that not only do you get a fantastic array of sparkles, but also enough of a base that you only need one coat of colour underneath (please note that you TOTALLY need a base colour or it'll take at least three coats for an opaque look).
In the past, I've used a baby blue base coat and I was delighted to see that the purple works just as well. And I'm totally being serious when I say that this entire mani, including dry time and clean up, was less than 30 minutes. Incredible, right? (Hint: the answer is yes! Haha!)
I had kind of forgotten about
It's a Trap-eze!
and I'm surprised because it's such a fun and versatile polish! Funny how that works sometimes, eh?
Can't wait to check out what you're sharing this week! Link up and show off!