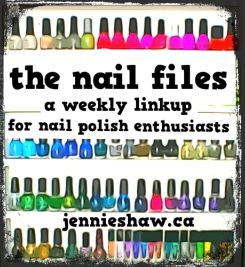 **Link up with us to show off your cute manis (either done by yourself or in a salon), nail polish purchases and/or recommendations, nail polish tips--whatever nail-related thing you'd like! And please use the button and/or link back to this blog. Thanks!**
***
Let the recent nail art extravaganza continue!
*bangs gong*
This week, I tried a new technique with a current obsession. You know, cause I literally am obsessed. Haha! I've seen this technique before, on Pinterest, and I have to say that I wish I'd tried it before!

Why? Because it was pretty freaking easy, that's why! And isn't that the best? YES IT IS!
To start, I did two coats of the breathtaking Monaco. Holy moly, do I ever love that blue.
*stares*
Oh, sorry. I got distracted. Haha! Where was I? Right! The curve!
Using the regular ole brush from the essie polish,
shake your $$ maker
, I made a line, starting from the bottom of the nail, all along to the other side, and then up. I touched up the middle of the curve just a bit and then, when it was dry, went overtop with
Monster Mash,
also using the bottle's brush. Then, a coat of quick dry top coat sealed it all together.
For the other two fingers, I did one coat of shake your $$ maker, followed by two coats of Monster Mash. When the base was dry, I used a medium-sized dotting tool, picked out some light blue hex bits from I'm a Go Glitter, and placed them in the centre. I should have waited until they were a bit dryer, though, because they sank into the polish and I lost some of the hard hex edges. *grumbles* Haha!
As you can see from the pictures, Monster Mash is hella sparkly, which is precisely why I love it so much! Haha! The blue breaks it up a bit, so although it may be a tad much for an office, it's sure a cool mani for a party! Like, I don't know, A Monster Mash? Bahaha! I kill me. *wipes tear*
What are you rocking this week? Link up and show off!