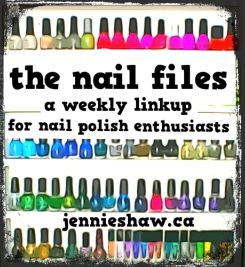 **Link up with us to show off your cute manis (either done by yourself or in a salon), nail polish purchases and/or recommendations, nail polish tips--whatever nail-related thing you'd like! And please use the button and/or link back to this blog. Thanks!**
***
Lately, I've been inspired by
Chelsea King's
amazing IG posts, so I figured it was about time for some actual nail art. I haven't done stripes in a while, so that's what I decided to do. But not just any stripes-- racing stripes!
YES!
I thought to myself.
YES! THAT'S IT!
So I picked out the super fun
Flip Flop Fantasy
and paired it with
Margritte's Masterpiece,
doing one stripe of each on top of two coats of
Paper Mache
.
Then, because there weren't any sparkles, I did my new favourite thing of putting a piece of hex glitter in the middle of a polish dot. In this case, that's
Sparkle and Snowflake,
and the hex glitter came from
Techno.
Outside, no flash.
Yes, the freehand lines aren't perfect, especially the Shaky McShakerson on my pointer finger, but MAN, did it take way less time than using striping tape. Hopefully, with a little practice, my lines will smooth out because striping tape can be a total bey-otch.
Inside, no flash.
And it was only after I finished that I realized something looked familiar.
I thought about it…
and thought about it…
and thought about it some more.
And then, it hit me!
HERBIE!
Now, my stripes are pink and blue instead of red and blue, but you've gotta admit that they sure do look similar! And I even did dots, which could be interpreted as wheels! Granted, I only did three and Herbie has four, but seriously, for an inadvertent tribute, it's pretty good. Haha!