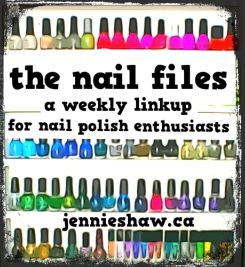 **Link up with us to show off your cute manis (either done by yourself or in a salon), nail polish purchases and/or recommendations, nail polish tips--whatever nail-related thing you'd like! And please use the button and/or link back to this blog. Thanks!**
***
So my obsession of putting hex glitter in dots continues, only this time, I upped my dot game. Haha!
For the non-feature fingers, I did two coats of
I Sea The Point,
which reminds me a lot of a lighter Finger Paints'
Margritte's Masterpiece.
The coverage was amazing and smooth, so if you have a chance to pick up a bottle before it's gone, I highly recommend it!
The feature fingers were a little more complicated. Uh, obviously. Haha! To start, I did two coats of Blu. Then, I added the dots with a large-sized dotting tool and Paper Mache. Doing so many rows of dots can be a bit of a challenge, but I find it easiest to start with a dot in the direct centre of my nail and then go up and down. That way, everything lines up. In theory, anyway. Haha! Once the dots were dry, I picked up one hex bit of all three colours in Don't Be a Flake and put them on the middle three dots.
I'm pretty sure that I'll be into this style for a while to come, and it's been fun coming up with different ways to use the same technique. HEX GLITTER AND DOTS FOR EVERYONE! Haha!
What have you been wearing this week? Link up and show them off!